Posts Tagged 'Barnes&Noble'
Thursday, December 1st, 2011
Head over to Redplum.com
Only From RedPlum! $5 off at Barnes & Noble Online
This is a great one, RedPlum shoppers. It's an exclusive coupon code that will get you $5 off when you spend at least $35 at Barnes & Noble online. The deal's good from 12/1 – 12/15 .
Friday, March 25th, 2011
Now through 3.27.2011 Barnes & Noble Members can get $25 off the price of a Nook.
only at your local Barnes & Noble at
Ladue Crossing Shopping Center
Ask a Bookseller for details.
Thursday, March 17th, 2011
Barnes & Noble is having a big Baby Day sale on all things Baby related. Get in on:
30% Off Fun Gear & Toys for Boys & Girls
30% Off on Gifts for Tots
45% Off Select Board Books
25% Off online or in-store coupon for Skip Hop Baby Gear
Click Here for more info and see your baby light up with one of these great items.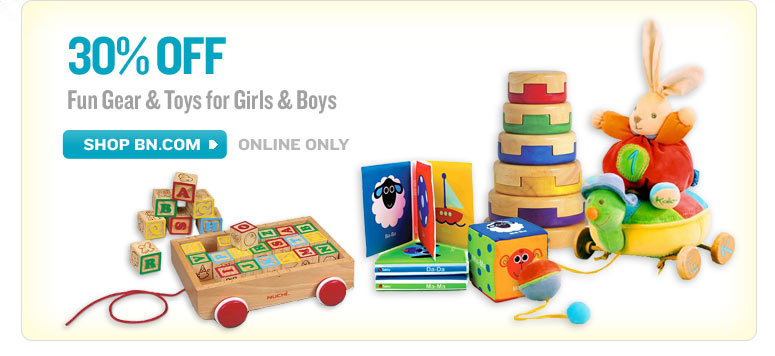 Thursday, February 24th, 2011
Head over to Barns & Noble this Sat Feb 27th and experience a Best Selling and Award Winng Reader tablet NOOK color and Barnes & Noble will give you a FREE perk as in FREE Starbucks Coffee oooyea!

Saturday, December 25th, 2010
Merry Christmas From Insaneshoppers.com
If you got a Nook under your TREE here is a great deal for a $30 Gift Card from Barnes&Noble
Simply subscribe to The New York Times on your nook and try it for FREE for 14 days. Click Here to subscribe today
Subscribe and (more…)
Tuesday, December 14th, 2010
Visiting Barnes & Noble save $10 on any Toy & Game purchase of $19.95 or more when you use your MasterCard
Click here for the in-store toy & game $10 off Coupon (more…)
Tuesday, December 14th, 2010
Visiting Barnes & Noble and catch this deal. When you buy two 1lb bags of Starbucks Coffee you get the 3rd bag FREE
Click here for the in-store coupon and other Barnes & Noble Coupons
12 Deals of Christmas: Visit BN.com everyday thru 12.18.10 for Big Savings!
Friday, December 10th, 2010
Let MasterCard pick up the tab.  From now till Dec 12 2010 save $10 on any Toy or Game purchase online or in-stores $19.95 or more  when you use your MasterCard to pay
Offer ends 12/12
Online use promotion code U3B4D3D

Click here for in-store coupon
Barnes & Noble online and in-store promotion giving you an extra 20% off regular and reduced priced items.
20% off one item! Use code D3U9T3R or code F8Y4M8WBSR0
-offer expires 12/13! Code applies to only Bn.com members.
or
Print in-store coupon
Daily Deal – Dec 9th: Save 70% off Essential Steve McQueen Collection!
New lower prices on Bestselling Fiction, save up to 45%!Offer expires 12.25.2010
Save up to 40% off on select Riding Toys – offer valid from 12.6-12.12!
Dr. Suess Offer: Buy 2 Get 1 Free! Offer expires 1.6.2011
Wristlet Offer: Buy any Vera Bradley item and get Vera Bradley Wristlet for just $9.95!